WATI offers SOC-as-a-Service for continuous security monitoring, threat detection, and response management.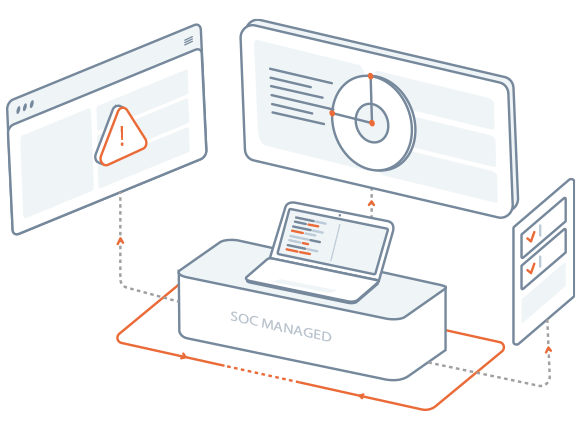 Our team of highly-skilled consultants works with technology
products you have or choose to cover both proactive and
reactive services.
Our coverage options are flexible, designed for quick scale, and you can start
with as-little or as-much to meet your desired SLAs and business needs.

SOC Monitor
Collect, investigate, and triage log data from your systems, for threat monitoring. Incident notification along with the proposed response.

SOC Manage
Manage security technology products – SIEM, IPS/IDS, firewalls, etc – for optimal configuration and patch management.

SOC Scanning
Regular scanning for vulnerabilities in applications, devices, and networks.

Incident Response
A dedicated team of experts engages in the resolution cycle of identified and suspected breaches.
FAQs on SOC Managed Services
Definitely not. Security impacts organizations of every size. We provide high-quality managed security services that fit the budgets of even small enterprises.
Maybe. But, very likely, not so.
Cyber security involves very specialized skill sets, that are not available to most IT professionals. The skills involved cover a wide spectrum, and it's impractical to expect one of few individuals to have them all. As a result, it becomes prohibitively expensive for organizations to hire all the staff they need with specialized security skills.
At WATI, we complement your IT teams. We bring a rich repertoire of security skillsets, process knowledge, and specialty tools – all at a price point that is in your budget.
When we function as an 'extension' of your team, we essentially use the same tools as you do, since we work within your environment. For all other cases, we can suggest or bring a set of tools and processes, as per security complexity and budgets.
In short, as many, as needed.
We structure engagements not by a number of notifications, but by the coverage needed and desired SLAs. Notifications depend on user activities, network events, suspicious events, and correlations.
In most cases, we work in clients' infrastructure (as 'extended teams') and in such cases, your data stays right within your own environment. In some special cases, we collect client's data in our secure environment for analysis, in such cases, the data storage will be as per your specific compliance needs, which is factored into contract discussions.
Organizations that have the latest and greatest security gear are still being hacked into.  Security apparatus like firewalls and IDS serves an important functions. Yet, they are only as good as they are configured.
Our security Certifications










Let's Discuss your SOC Managed Services needs
Toll-Free: +1 (844) 777-WATI (9284)